Our Focus
We have accumulated expertise in these key areas which can be applied to your project.
Finishes, Furniture and Fittings
Upcycling and Repurposing
Space Planning
Commercial space is expensive, bought or rented. It has to be used wisely and able to be altered as market forces dictate or the pandemic demands. This is why our Business & Property Analysis is so important in establishing how your organisation ticks and in what ways your staff interrelate.
During the space planning process, we consider the potential runs of power, water, drainage and ventilation – incorporating services below floor and above ceiling where relevant. Planned spaces then form the template for lighting design.

Lighting
Lighting is the most important element of any interior. It is both an art and a science. Lighting defines spaces, creates accents, highlights information and will set the mood for your interior.
There are recommended lux levels for all tasks in commercial spaces and these need to be calculated to get them exactly right for your situation.
Light Emitting Diodes are now accepted as the principal equipment for providing artificial light. LEDs use less energy than other technologies and have a long lamp life, cutting running costs and reducing maintenance for you. LED light sources are small and discreet – perfect for us to hide the fitting and design discreet lighting effects for your interior which will not date.
Caution – You get what you pay for! As designers, we like to specify LEDs with a high Colour Rendition Index to reveal the truest colours of your interior. Also, the projected life span of an LED is only as good as the electronic driver behind it. Good quality light fittings are an investment.

Acoustics
The fashion for hard floors, bare walls and minimal window dressing continues. This is a recipe for excessive noise which is rarely addressed. This is fine for a fast-food restaurant where people aren't encouraged to hang around but for many commercial interiors poor acoustics can mar the atmosphere and adversely influence the visitor.
There are several tools available to us to supress noise e.g.
Sound deadened underlay for hard flooring to dull footfall
Acoustically rated plasterboard and ceiling systems
Is speech intelligibility being compromised in your premises? Ask us how it may be possible to provide retrospective solutions.

Air Quality
We all expect a comfortable and stable temperature in a commercial building. We now have to contend with coronavirus aerosols and the need for an ample supply of fresh air. It is quite a challenge to provide both!
The provision of the best air quality for your interior project is part of our design process.

Disabilities
We were asked to design the interior of a new day centre for Action for Blind People in 1990. For that, we learnt the techniques of colour contrasting, tactile flooring, acoustic variation and the application of Braille signage.
This experience has been invaluable in subsequent public sector projects and for work in the hospitality sector impacted by the Disability Discrimination Act. Since then, Martin has worked with the hearing impaired who also benefit from acoustic control and visual warning systems.

Sustainability
Sustainable interior design reduces our impact on the environment. It cuts waste, conserves resources and protects the planet. Wherever we can, we specify furniture, flooring and finishes with sustainable credentials.
Is this important to you?
However, some interior elements are difficult to procure due to problems with the supply chain. Also, there may be a cost implication in taking the sustainable route and this might conflict with budgetary constraints.
As always, it is a matter of balance between doing the right thing and what is expedient for the client.

Finishes, furniture & fittings
These are the tools of our trade which we apply to create your unique interior. We only specify contract grade materials, fire rated to the appropriate standard. Items are chosen for their durability, environmental and health credentials as well as for their appearance.
Through our contacts in the trade, many interior elements can be bespoke. For example, in the bar lounge at the Poppy Club, we designed the carpet to compliment existing finishes and colours.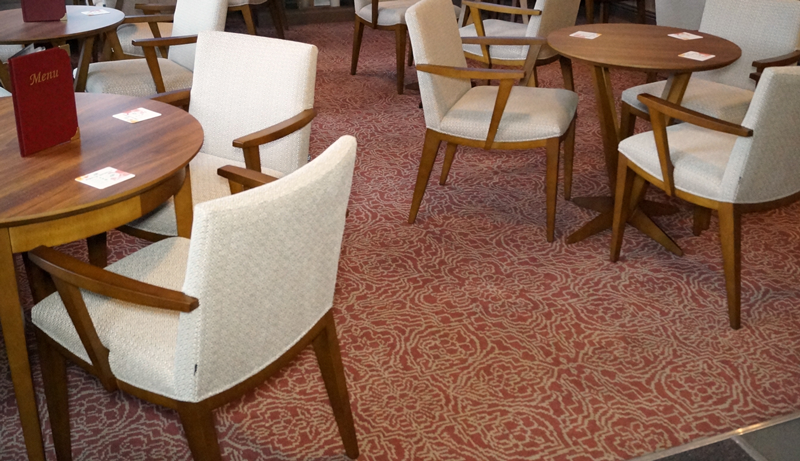 Upcycling and repurposing
Gone are the days when we throw things out without a thought for the environment. Most of our work is the refurbishment of existing premises and we always look for opportunities to recycle what we can.
A case in point is our re-design of Blanch House Hotel in Brighton. The existing bar was tired and dated and needed to be re-configured. However, the bar top was a substantial piece of solid walnut which deserved to be renovated. The photo shows the re-finished timber surface on top of a new bar constructed from softwood and MDF reclaimed from old banquette seating elsewhere in the building.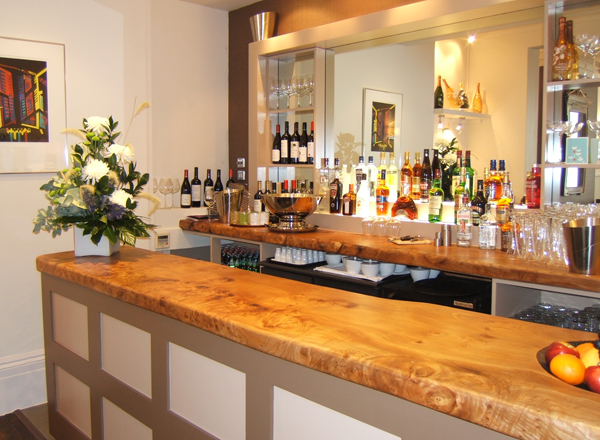 Business & Property Analysis
This initial exercise is pivotal in finding out all we need to know about your organisation and your premises. We discuss your Business or Corporate Plan, Marketing Strategy or Mission Statement so that we know exactly how your business should be perceived by your customers or clients. Other questions:-
do you have competitors we need to consider?
If so, do we need to investigate your competition on your behalf, perhaps incognito?
do you need to continue trading if we are refurbishing existing premises?
We need to know all about your property, its facilities and its restrictions. For example:-
is there a ventilated air system?
Is the electrical supply "single" or "three phase"?
How strong is the mains water supply?
Is the property in a Conservation Area or Listed?

Contact us
Do you have a project you'd like to discuss? Get in touch.
Just email us: martin@designpays.co.uk
Call: 01323 484242
or complete the form and we'll get back to you.